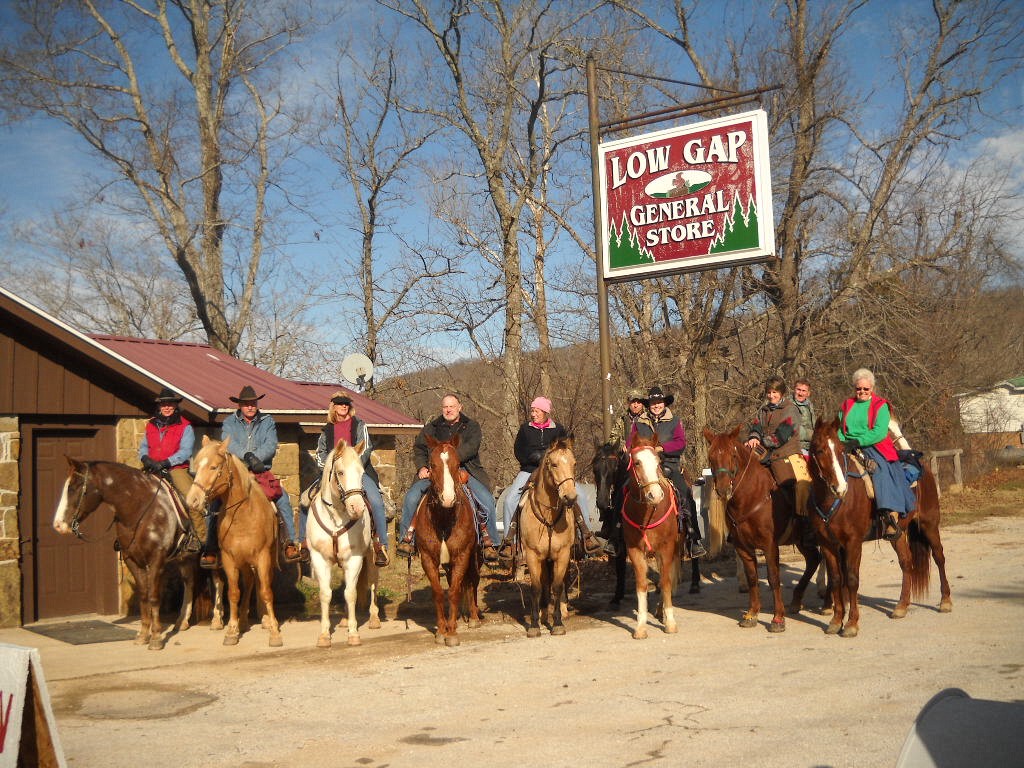 Luck was with me in a couple of different ways on Wednesday and both related to the
Low Gap Cafe
. The cafe opened a few months ago in an unassuming building that once served as the Low Gap General Store. It is closed on Monday and Tuesday so this was my first real chance to try a meal there despite passing it on the way to my cabin every day.
My first bit of luck was in choosing to eat there at all. My order on this first visit was just a sandwich and fries, but the sandwich was especially tasty and the fries were cooked perfectly. I got the idea that somebody at the cafe took pride in their food. After that I ate one meal per day there. From the hamburger to the filet mignon, I was never disappointed and I never went back to the Ozark Cafe. My only regret was that I had to pass up the triple chocolate cake due to a Lenten sacrifice.
Another notable thing about the Low Gap Cafe (aside from the hitching post incident mentioned
here
) is that they feature free WiFi in an area rather starved for Internet access. I was using their WiFi to do a bit of research on hiking destinations when good fortune smiled for a second time. A man named Michael Dougherty approached me and introduced himself. He is the president of the
Buffalo River Chamber of Commerce
and an avid photographer.
In preparing for my Monday and Tuesday float trips, I had already made use of some great information from his web site including GPS-annotated topological maps and river level references. Michael joined me at my table and we talked hiking and photography for about twenty minutes. Among other things, he said that the chance for a spring hike at the
Nature Conservancy's Smith Creek Preserve
was an opportunity not to be missed. The preserve protects 1,226 acres along Smith Creek above Boxley Valley. In addition to its surface beauty, it sits above Sherfield Cave which is home to Arkansas's largest population of Indiana bats. Since I had already been considering a visit to Smith Creek, his advice sealed the deal.
Once I finished my lunch, I packed my gear and headed for the preserve. When I arrived at the trailhead, I had the entire place to myself. My first goal was to find my way to QuiVaLa Elise Falls. Using the directions from Tim Ernst's
Arkansas Waterfalls Guidebook
, I followed a fairly faint path (really more of an overgrown old jeep trail) until I reached a dry creek bed at the bottom of a hollow. After following the creek bed for a time, a small stream joined from the left and I heard the sound of falling water. A short scramble up this stream led to the waterfall on the right.
I soaked in this view for a time, then climbed back out of this hollow and followed the main trail downhill into another one. As soon as the path reached the bottom of the second hollow it turned and ran along Smith Creek for several miles. As the trail made its way through the woods, it crossed smaller streams coming to join the creek and passed little springs, sinkholes, wildflowers, dogwoods, redbuds, butterflies, and more.
The most striking portion of the hike was a section of the creek where huge boulders and a fractured limestone bed created a series of cascades. It was breathtaking. I clambered over the boulders to explore the cascades from all angles, then continued down the trail until it finally crossed the creek and faded away away into the woods.
I was in no hurry to leave, but eventually I retraced my steps back to the trailhead. A vehicle from Missouri was parked there when I returned, but I never saw the driver or anyone else. It was truly an afternoon of peace and beauty.
More Pictures from Smith Creek Preserve